Growing in God
Participating in worship together is the foundation of our relationship with God and with each other in Christian community. With prayer, song and sacraments, we give thanks for the blessings we receive.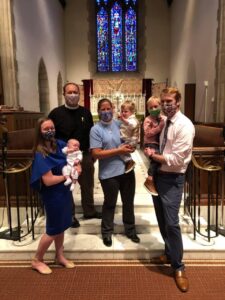 Vestry Steward: Molly Moyer
Acolytes: Sue Dodge

Altar Guild: Claire Phillips and Leslie Tahsler
Choir: Douglas Beach
Eucharistic Ministers: Tom Bond
Flower Memorials: Parish Administrator
Lectors: John Gouveia
Steeple Bell Ringers: Garth Alexander
Ushers: John Gouveia
"Anglicanism has always insisted that the life of the church and her sacraments must be thought of as necessary 'means of grace.' The fact is, a person cannot really be a Christian apart from involvement in the community of believers." – John M. Krumm, Why Choose the Episcopal Church?
To access the scripture readings for Sunday worship, visit The Lectionary Page.
Worship Calendar