Baptism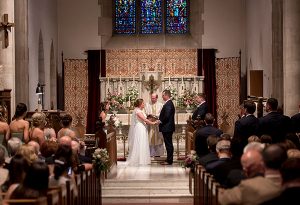 Baptisms, Wedding and Funerals are part of the sacraments held at St. John's in Lancaster, PA.
Baptism is the sacrament by which God adopts us as God's children and makes us members of the church, the Body of Christ. Holy Baptism normally takes place during regular church services at Easter, Pentecost, All Saints' Sunday and the Feast of the Baptism of our Lord, or when the bishop is present.
The Episcopal Church recognizes the baptisms of all denominations. If you are considering being baptized, please speak with the clergy. If you have been baptized in another church and wish to become an active baptized member of St. John's, please contact the parish office to request a Letter of Transfer. For more information, refer to our Baptismal Policy.
Weddings
Celebrate the sacrament of marriage for those who participate in parish life at St. John's. Generally, weddings are not celebrated during Advent and Lent. If you would like to plan a wedding ceremony at St. John's, please refer to our Wedding Policy and call the Parish Office at least three months in advance.
Burial and Memorial Service
Arrangements can be made in consultation with the Rector or attending member of the clergy. The death of a member of the church matters to the entire body of the parish. Please report the death of a loved one to the Parish Office as soon as possible so support can be offered. If you would like to pre-plan your burial service, you may complete the form entitled A Service to You which is located on the literature table in the Parish Hall or contact the Parish Office for a copy.