Community
Witnessing in Love
Listening to the voice of God in community, attending to hospitality and welcome, offering sympathy, encouragement and friendship is part of our purpose at St. John's. The Community ministries help us create a place of warmth and acceptance, binding us in membership, but also keeping us open to the stranger and newcomer.
Vestry Steward: Lynn Hayford
Coffee Hour: Mary Waskowicz
We gather after the 8:00 a.m. and 10:15 services for fellowship and light refreshments.
Episcopal Church Women (ECW): Sue Martin
All St. John's women are members of ECW and invited to participate in activities and events, designed to provide spiritual nourishment and assistance with church programs.
Funeral Receptions: Toni Ehrhart
St. John's Hospitality Committee is available to provide guidance and assist in receptions held in the Parish Hall following burial or memorial services.
Lemonade Time: Sue Martin
A 'lite' version of our fellowship hours offered Sunday mornings at 11:30 a.m. during June, July and August.
St. John's Voyagers: Barbara Graeter
St. John's Voyagers is a group of seniors who meet once a month (usually the last Saturday) in the Parish Hall for fellowship and to share information pertinent to their needs. Announcements about each month's program are included in The Messenger and bulletins. All are welcome!
"In our world full of strangers, estranged from their own past, culture and country, from their neighbors, friends and family, from their deepest self and God, we witness a painful search for a hospitable place where life can be lived without fear and where community can be found…That is our vocation: to convert the enemy into a guest and to create the free and fearless space where brotherhood and sisterhood can be formed and fully experienced." Henri Nouwen, Reaching Out
---
Communications
Witnessing in Love
The ways we listen to each other and tell each other what we need to know in common is crucial to our parish life. Communication at St. John's is centered in our church office, where Parish Secretary Patti Means connects members with the clergy and staff, maintains the church calendar, and produces service bulletins and our parish newsletter, The Messenger. We also share St. John's news on our website blog and Facebook page, as well as through the media.
Would you like us to promote your event? Please use an event form (print or download a PDF or Word form) to send us the details.
Vestry Steward & Chair: Leslie Tahsler
Messenger: Patti Means, 717-299-1188, patti@stjohns-lancaster.org
Bulletin Boards: Mary Ellen Kilp
Website and Media: Jill Gross and Debbie Carter
"Communication is foundational to culture; the ways we communicate are inextricably linked with the environment we create." James Ware, Focus Consulting Group
---
Outreach
Witnessing in Love
At St. John's, outreach is more than shaking the hand of the person in the pew two rows in front of you." Billy Dorgan, St. John's youth, circa 2007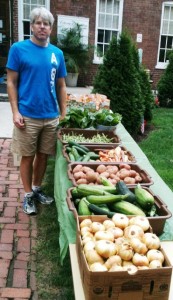 Outreach ministries at St. John's are a deep-rooted tradition of the heart and hand united in faith practice. Our parish dedication to the Millennium Development Goals, to providing for refugees, and to supporting local, national and international efforts to relieve suffering and meet emergency needs is a source of spiritual strength, as well as a light for those who want to serve.
Vestry Steward: Sue Heilman
Episcopal Relief and Development: Brad Zuke
Jubilee Ministries: (coordinator TBA)
"We pray for an end to the desperation of poverty and hunger, that each of us may respond generously to meet basic human needs." St. John's Millennium Development Goal Petition, Prayers of the People