Community Breakfast
Volunteers from St. John's prepare and serve a hot breakfast for up to 200 people from the community at First Reformed UCC, E. Orange St., Lancaster, on the third Saturday of each month. Help is always appreciated from 7:30 to 11:00 a.m.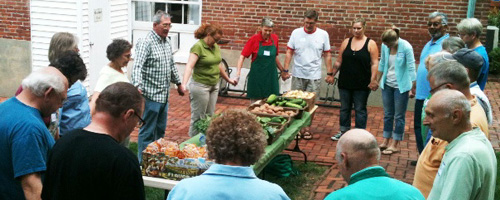 Food Pantry
Each week donations are received from parishioners. Volunteers handle each step in the process of getting that food to our neighbors. Our door is open each Tuesday and Thursday afternoon from 2:30 to 3:30 p.m. Monetary donations and non-perishables (especially canned meat and tuna) are always appreciated.
Our neighbors' needs have grown during this pandemic, so we've set up an Amazon Wish List so people can have food sent directly to us: https://www.amazon.com/hz/wishlist/ls/1M8JXNQ3ZQ547?ref_=wl_share
Thank you!
Martha's Ministry
Members as well as friends of St. John's gather to knit and crochet. Making and providing prayer shawls and pocket-size prayer shawls is a specialty of this group. They also sponsor a "St. Nick's Knits" sale at the end of November with a variety of items. Monies received support other Jubilee Ministries. Our needle workers can be found gathered in the Parish Hall on Tuesday afternoons from 2 to 4 p.m. and between services on Sunday mornings. We welcome beginners, rusty and seasoned stitchers. Donations of yarn are welcomed.
View the Martha's Ministry Calendar
Angel Tree
This ECW sponsored Advent project provides Christmas gifts for needy children in the community. Volunteers prepare the 100 tags for parish acquisition, organize the incoming packages, and assist with the holiday distribution.
Mental Health/Substance Abuse
St. John's provides a meeting space for AA, NA, and VA groups five times each week.
View the AA Calendar  |  View the NA Calendar  |  View the VA Calendar

Betty Finney AIDS Memorial Garden
The garden, located in the Mayor Janice P. Stark Corridor Park (formerly "Linear Park") on West Lemon Street in Lancaster, honors more than 450 Lancaster residents lost to HIV/AIDS, their courageous caregivers, and faithful advocates. Volunteers do general garden maintenance.