Participating in worship together is the foundation of our relationship with God and with each other in Christian community. With prayer, song and sacraments, we give thanks for the blessings we receive. We invite you to join us!
Note: When worshiping at St. John's during our construction project, we look forward to welcoming you at the Chestnut Street entrance closest to Mulberry Street. The Parish Hall (accessible from the Concord Street parking lot behind Becker House) will also be set up for worship. Communion will be brought over to the Parish Hall. Click here to learn more.
---
Sunday Worship
8:00 a.m.
Holy Eucharist: Rite I with sermon
Rite I is a service of Holy Communion using traditional language. It is a spoken liturgy with a prelude and postlude of organ music.
10:15 a.m.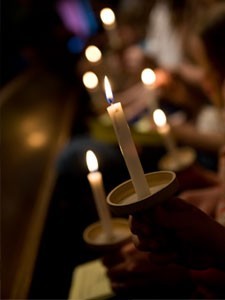 Choral Holy Eucharist: Rite II with sermon
Rite II is a service of Holy Communion using modern language. It is sung liturgy with organ, hymns, and from September to June, choir offerings.
Wednesday Worship
12:05 p.m.
Holy Eucharist: Rite II and Healing with homily
This is a service of Holy Communion which includes prayers, anointing and laying of hands for the sick and those who care for them.
---
All are invited to participate in the Holy Communion by receiving either a blessing or the sacrament of bread and wine. All ages are welcome to receive Holy Communion.
---
Audio and/or video recordings of selected sermons are available online. Our Facebook page also has videos of some sermons.