Scouts Sunday: We invite all current or former scouts – adults and children – to wear your uniform or pin to church this Sunday.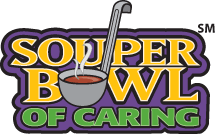 Souper Bowl of Caring: Our Food Pantry Ministry has been addressing the needs of our hungry neighbors, and our youth are tackling that problem head-on! After Sunday's 10:15 service, our youth will take part in a national program called "Souper Bowl of Caring," which started with a simple prayer, "Lord, even as we enjoy the Super Bowl football game, help us be mindful of those who are without a bowl of soup to eat."
They will provide a luncheon of soup and salad, for which you may make a donation, and we will also have envelopes in the pew. Soup will also be available for take-out. Please give generously! All contributions will stay at St. John's, to support our Food Pantry Ministry.