St. John's will offer a Blessing of the Animals in honor of St. Francis of Assisi, patron saint of the environment and animals, Friday, October 4, starting at 6 p.m. The service will be offered outdoors in the church courtyard and parking lot at the corner of Chestnut and Mulberry streets (entrance on Mulberry Street).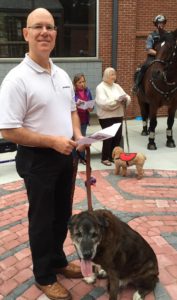 All are invited to bring animal companions, or photos or toy pets, for a short service and blessing, followed by refreshments and opportunities to visit with local non-profit animal organizations providing pet support and services. Lancaster City's Mounted and K-9 units will also be on hand. Free will donations will be accepted for the non-profit participants. Please bring pets leashed or in a cage or carrier for their comfort and safety.
Animals have always been a part of the human experience, teaching faithfulness, friendship, love, forgiveness and acceptance.  In addition, their unique and keen senses provide service and support with their abilities to defend, search, detect health issues, and sense emotional support needs. St. Francis recognized the great blessing and value of animals. St. John's has been continuing that tradition with this annual tradition of celebration and thanksgiving.
For more information, contact Marion Wear, Event Coordinator, at 717-584-6229 or marion.s.wear@gmail.com. Also visit the St. John's website at https://stjohns-lancaster.org/